Special Edition May 2021
Welcome everyone to the latest edition of Rewarding News. It has been a busy time for us speaking to schools, professional groups who deal with children and young people, and preparing responses to government consultations at home and abroad. However in this edition we focus on the departure of one of the titans of the movement to educate people about porn harms, Gary Wilson. We also provide an update on what the UK government is doing, or not doing, to protect children from the harms of easy exposure to hardcore material. You will have a part to play in moving this forward. There is some key new research available too. Feel free to contact me, Mary Sharpe, at [email protected] to send requests for anything you would like to see us cover.
Gary's Gone
It is with the greatest of sadness that we announce the death of our beloved friend and colleague, Gary Wilson. He passed away on 20th May 2021 as a result of complications due to Lyme's disease. He leaves behind his wife Marnia, son Arion and darling dog, Smokey. The press release is here: Best-selling author of Your Brain on Porn, Gary Wilson, has passed away
Apart from being just one of the most thoughtful, smart and witty persons we've ever known, Gary is special to us because his work was the inspiration for our charity The Reward Foundation. We were so motivated by his popular TEDx talk "The Great Porn Experiment" in 2012, now with over 14 million views, that we wanted to spread the knowledge and hope his work brought to those struggling knowingly or unknowingly with problematic pornography use. He was an original thinker and a hard worker. Most of all, he was a courageous defender of the scientific truth. He did that in the face of opposition from agenda-driven fanatics who denied porn's effects on the brain.
Gifted teacher and researcher
Gary was our honorary research officer. He was a co-author with 7 US Navy doctors on the seminal "Is Internet Pornography Causing Sexual Dysfunctions? A Review with Clinical Reports". The paper has had more views than any other paper in the history of the prestigious journal, Behavioural Sciences. He was also author of the highly cited "Eliminate Chronic Internet Pornography Use to Reveal its Effects (2016). As a gifted teacher with a dry sense of humour, he made learning easy. Gary willingly gave of his time to help us with various presentations and lesson plans. He helped everyone who sought his assistance. He'll be deeply missed.
Gary was the first person to draw attention publicly to the potentially addictive nature of internet pornography in that TEDx talk in 2012. Technology and access to pornography have developed at a dizzying pace in the intervening years. At the same time pornography has snared more and more people. Among pornography users rates of sexual dysfunctions have skyrocketed year-on-year. This rise has occurred alongside a dramatic drop in libido and sexual satisfaction with real partners.
Your Brain on Porn
Such was the popularity of the TEDx talk that Gary was encouraged by many to update it in the form of a book. This became "Your Brain on Porn – Internet Pornography and the Emerging Science of Addiction". It is the best-selling book in its category on Amazon. The second edition covers Compulsive sexual behaviour disorder (CSBD). The World Health Organization has now included CSBD as an impulse control disorder in the International Classification of Diseases (ICD-11). Leading researchers and clinicians have also considered the extent to which types and patterns of pornography use may be classified as an "other specified disorder due to addictive behaviours" in the ICD-11. Recent biological data suggest that pornography use and compulsive sexual behaviours may be best classified as addictions rather than impulse control disorders. So Gary was right and extremely prescient in his estimation of pornography's effects.
His book is available now in its second edition in paperback, Kindle and as an e-book. The book now has translations in German, Dutch, Arabic, Hungarian, Japanese, Russian. Several other languages are in the pipeline.
Gary's Memorial
His son Arion is building a memorial website. You can read comments here: Comments. And submit your own here, if you wish, even anonymously: Gary Wilson's Life. The comments section of the memorial is a true testament of how many lives he touched in a positive way. Many people have said he literally saved their life.
His work will live on through us and many others who are part of the growing army of people recognising what damage uninformed, casual use of pornography can bring. His work brings hope to the countless thousands who are suffering with the knowledge that, by removing porn from their lives, they can not only heal their brain, but put their lives on a better footing possibly than ever before. Thank you, Gary. You are a true modern-day hero. We love you.
Please support this Judicial Review against UK Government
Do you want to protect children from hardcore pornography? Please contribute to this crowdfunded action. We are offering our time and services for free as well as contributing financially.
A special type of court action called a judicial review is being brought against the UK government for its failure to implement Part 3 of the Digital Economy Act 2017 (DEA). A judicial review is the process of challenging the lawfulness of decisions of public authorities, usually local or central government. The court has a "supervisory" role make sure the decision maker acts lawfully. Think "prorogation" in the lead up to Brexit.
A Conservative government introduced the DEA and it was passed by all parties in both houses. Yet as you will see from the story above, Boris Johnston pulled it a week before it was due to be implemented and made law. No one predicted the pandemic, but the effect of non-implementation of this act has meant that countless millions of children have had easy access to hardcore pornography during lockdown while stuck at home bored with little more than the internet to amuse them. Pornhub, even offered their usually costly premium sites for free during this time as a way to encourage new users.
Background
There are two claimants in this court action. First, Ioannis, a father of 4 sons, one of whom had been exposed to pornography on a school device. In the weeks leading up to the incident Ioannis and his wife had noticed a stark change in their son's behaviour. Initially they simply put it down to possible stress that he might have been experiencing during the covid pandemic. Some of the things they noticed were: isolation, aggressive behaviour towards siblings, loss of interest in things he loved. After the phone call from the school, the parents realised that the changes in behaviour were directly linked to the access to pornography.
The second claimant is a young woman called Ava. In March 2021, Ava began to compile testimonies from young students about sexual harassment and violence they had faced from students at a local independent boy's school. The response was immense; girls as young as 12 were getting in contact with her to detail their own experiences of rape culture and the incredibly harmful treatment they had suffered from in school. She put these testimonies in an open letter to the headmaster of the school asking him to address this culture of misogyny and to put practical steps in place to make survivors feel supported
The letter has now reached more than 50,000 people on Instagram alone. It has been featured on BBC News, Sky News, ITV News and in many other publications.
Don't delay
If we don't get this legislation implemented, there is a serious risk that the new Online Safety Bill will not cover commercial pornography sites, the target of this legislation. Even if it does eventually cover it, it will be at least 3 years before it sees the light of day. The best course of action to protect children is to implement the Part 3 of the DEA now. The Government can fill in any gaps with the new Online Safety Bill later.
Key information for Parents, Teachers & Policy Makers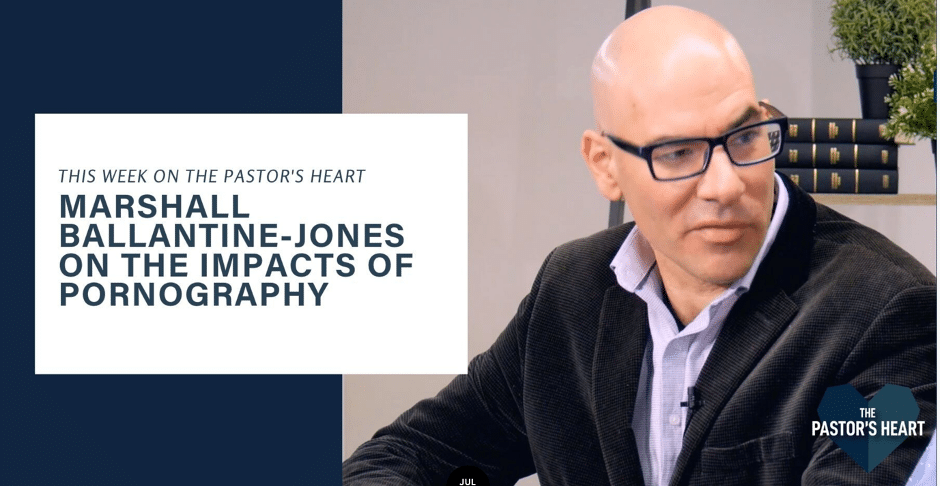 We were delighted to receive contact from Dr Marshall Ballantine-Jones PhD from Australia 2 weeks ago to which he generously attached a copy of his PhD thesis. Intrigued by his story, we followed up with a Zoom discussion a few days later.

Marshall told us that having attended a Summit in 2016 about research on the effects of pornography on children and young people, he realized there was no agreement about which educational interventions researchers should focus on going forward: educational interventions by parents? Education for young users? Or intervention by their peers? As a result, Marshall decided to set up his own set of educational initiatives in all three areas and try them out on a good cohort of people as the basis of his doctoral thesis.

The thesis is called "Assessing the effectiveness of an education program for reducing the negative effects of pornography exposure amongst young people." It was submitted to the Faculty of Medicine and Health, University of Sydney and is an excellent review of the latest research in this area. It covers mental, physical and social harms.

Marshall conducted an initial study to develop a baseline survey about pornography viewing and attitudes to pornography in a sample of 746 Year 10 high school students, aged 14–16 years, from New South Wales (NSW) independent schools. The intervention was a six-lesson programme, aligned with the Health and Physical Education strand of the Australian National Curriculum, conducted on 347 Year 10 students from NSW independent schools, aged 14–16. The programme was developed by the researcher, in consultation with school teachers, parents, and high school students.
Conclusions
"The comparison of pre- and post-intervention data showed a significant increase in healthy attitudes related to pornography,positive views towards women, and responsible attitudes towards relationships. Additionally, students with regular viewing behaviours increased their efforts to reduce viewing, while increasing their unease about ongoing pornography viewing. Female students experienced mild reductions in self-promoting social media behaviours and pornography viewing frequency.

There was some evidence that the parental engagement strategy increased parent-student interactions, whilst peer-to-peer engagement helped reduce the influence of wider peer culture. Students did not develop problematic behaviours or attitudes after doing the course. Students who regularly viewed pornography had higher rates of compulsivity, which mediated their viewing behaviours such that, despite increases in attitudes opposed to pornography, unease about pornography viewing, or efforts to reduce undesirable behaviours, viewing prevalence did not reduce. Additionally, there were trends of increased tensions in male parent-relationships after the home engagement activities, and female peer-relationships after the peer discussions or from the social media teaching content.

"The program was effective at reducing a number of negative effects from pornography exposure, sexualised social media behaviours, and self-promoting social media behaviours, using the three strategies of didactic education, peer-to-peer engagement, and parental activities. Compulsive behaviours impeded efforts to reduce pornography viewing in some students, meaning additional therapeutic help may be required to support those struggling to produce behaviour change. Additionally, an adolescent's engagement with social media may produce excess narcissistic traits, affecting self-esteem, and altering their interaction with pornography and sexualised social media behaviours."
Good news
It is good news that many young viewers can be helped by educational inputs, but it is bad news that those who have become compulsive viewers cannot be helped by education alone. This means that government intervention such as through an age verification strategy is essential. It also means more therapists are required, those suitably trained, we hope, with an understanding of the compulsive and addictive potential of internet pornography, given how persistent compulsive use of pornography can be in young users. It is clear that a great deal more needs to be done both by way of educational initiatives and research into what is effective in reducing prevalence of use. We hope our own lesson plans and parents' guide to internet pornography, both free, will contribute to this important educational task.
Online Safety Bill – Will it protect children from hardcore porn?
In the run up to the general election in 2019, the UK government shelved Part 3 of the Digital Economy Act 2017 a week before its due implementation date. This was the long-awaited age verification legislation and meant that the promised safeguards to protect children from easy access to hardcore internet pornography did not materialize. The reason given at the time was that they wanted to include social media sites as well as commercial pornography sites as many children and young people were finding pornography there. The new Online Safety Bill is what they are offering to this end.
The following guest blog is by a world expert on childrens' online safety, John Carr OBE. In it he analyses just what the government is proposing in this new Online Safety Bill announced in the Queen's Speech for 2021. You'll be surprised if not, disappointed.
The Queen's Speech
On the morning of 11th May the Queen's Speech was delivered and published. In the afternoon, Caroline Dinenage MP appeared before the Communications and Digital Committee of the House of Lords. Ms Dinenage is the Minister of State responsible for what has now been renamed the "Online Safety Bill". In response to a question from Lord Lipsey, she said the following (scroll to 15.26.50)
"(the Bill) will protect children by not only capturing the most visited pornography sites but also pornography on social media sites".
That is simply not true.
As currently drafted the Online Safety Bill applies only to sites or services which allow user interactivity, that is to say sites or services allowing interactions between users or allowing users to upload content. These are what are commonly understood to be social media sites or services. However, some of the "most visited pornography sites" either already do not allow user interactivity or they could easily escape the clutches of legislation written that way simply by disallowing it in the future. That would not affect their core business model in any significant way, if at all.
You could almost hear the champagne corks popping in Pornhub's offices in Canada.
Now scroll forward to around 12.29.40 where the Minister also says
"(according to research published by the BBFC in 2020) only 7% of children who accessed pornography did so through dedicated porn sites….even children intentionally seeking out pornography did so predominantly through social media "
How children access pornography
This too is simply untrue as this table shows: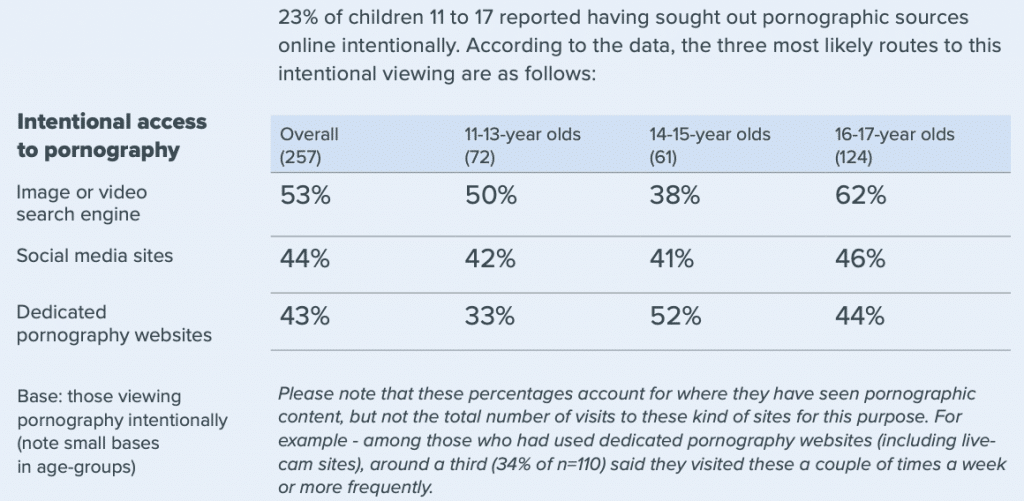 The above is taken from research conducted for the BBFC by Revealing Reality (and note what it says in the body of the report about children seeing porn online before they had reached the age of 11). Bear in mind the table shows the three key routes to children's pornography access. They are not exhaustive or exclusive one of another. A child could have seen porn on or via a search engine, social media site and a dedicated porn site. Or they may have seen porn on social media once, but be visiting Pornhub every day.
WIll Commercial Pornography Sites Escape Inclusion?
Other research published the week before the Queen's Speech looked at the position of 16 and 17 year olds. It found that while 63% said they came across porn on social media, 43% said they had also visited porn web sites.
Part 3 of the Digital Economy Act 2017 principally addressed the "most visited pornography sites." These are the commercial ones, the likes of Pornhub. In explaining why the Government did not implement Part 3 and now intended to repeal it, I was astonished to hear the Minister say it was down to Part 3 falling victim to the "speed of technological change" as it had not included social media sites.
Does the Minister truly believe the issue of porn on social media sites has only cropped up as a serious matter in the past four years or so? I'm almost tempted to say "if so, I give up".
When the Digital Economy Bill was going through Parliament the children's groups and others lobbied for social media sites to be included but the Government flatly refused to countenance it. I will not mention at the time Part 3 received Royal Assent, Boris Johnson was a Cabinet Minister in the Conservative Government of the day. Nor will I allude to what I believe are the real reasons why the Tories did not want to proceed with any form of restriction to online porn before the Brexit General Election was out of the way.
Secretary of State and Julie Elliott to the rescue
Two days after the Minister of State appeared in the Lords, the DCMS Select Committee of the House of Commons met with Secretary of State Oliver Dowden MP. In her contribution (scroll forward to 15:14.10) Julie Elliott MP got straight to the point and asked Mr Dowden to explain why the Government had chosen to exclude commercial pornography sites from the scope of the Bill.
The Secretary of State said he believed the biggest risk of children "stumbling" over pornography was via social media sites (see above) but whether or not that is true "stumbling" is not the only thing that matters here, particularly for very young children.
He also said he "believed" the "preponderance" of commercial pornography sites do have user generated content on them so therefore they would be inscope. I have never seen any evidence to support that proposition, but see above. A few mouse clicks by the site's owner could remove interactive elements. Revenues are likely to remain substantially unaffected and in one bound the porn merchants would free themselves of the cost and trouble of having to introduce age verification as the only meaningful way of restricting children's access.
How could this happen?
Were the Minister of State and the Secretary of State poorly briefed or did they just not grasp and understand the briefs they were given? Whatever the explanation it is a remarkable state of affairs given how much attention this subject has received in the media and in Parliament over several years.
But the good news was Dowden said if a "commensurate" way could be found to include the kind of sites that were previously covered by Part 3 then he was open to accepting it. He reminded us that such might emerge from the joint-scrutiny process which will shortly begin.
I am reaching for my commensurate pencil. I keep it in a special drawer.
Bravo Julie Elliott for getting the kind of clarity we all need.