TRF in the Press 2016
The media have discovered The Reward Foundation and are spreading the word about our work including: the porn awareness classes; the call for effective, brain-based sex education in all schools; need for training for NHS healthcare providers on pornography addiction and our contribution to research on porn-induced sexual dysfunctions. This page highlights some of our successes in the press.
Newspapers and Online
October 2016. Mary Sharpe features in this commentary by Dr Linda Hatch on porn and sex addiction in the UK.

The Sunday Times – Scotland Edition, 21 August 2016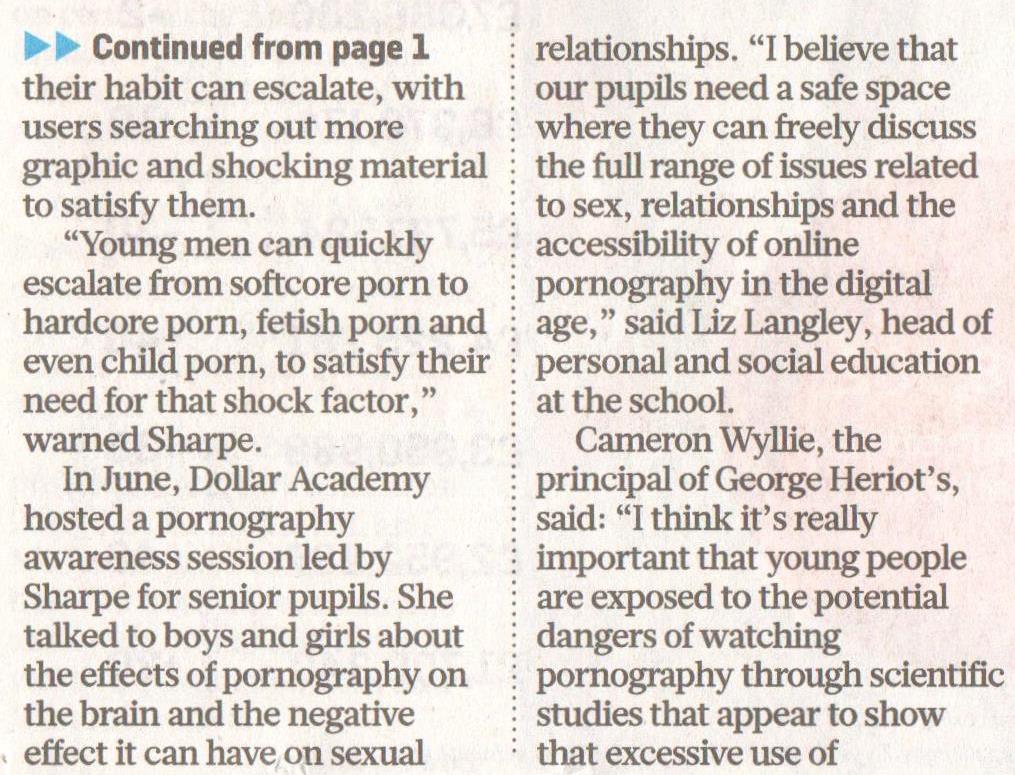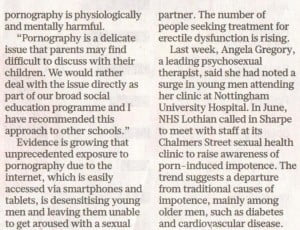 The version used outside Scotland can be seen online here.   It requires a subscription, though you can sign up for two free stories per week.  It was also used in this Croatian language news story under the title NAVUČENI NA PORNIĆE Djeca od 11 godina ovisna su o nasilnom seksu written by Ana Muhar.
.
The Scottish Daily Mail followed-up the Times story twice.  First it offered the following piece…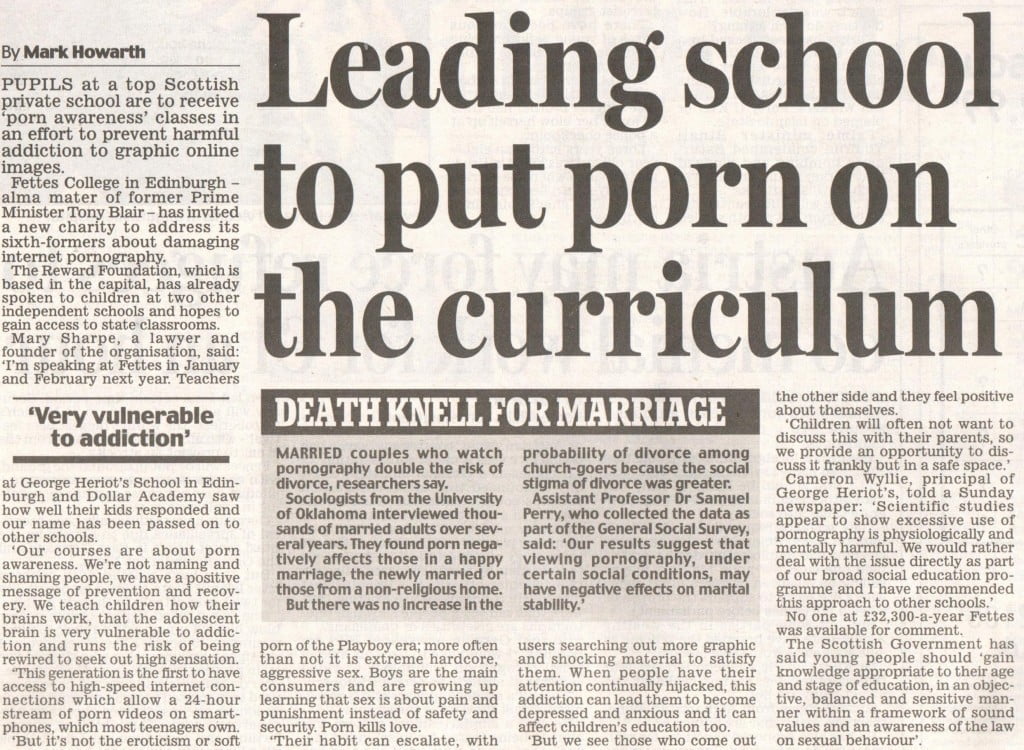 The next day it used several Reward Foundation ideas in its leader…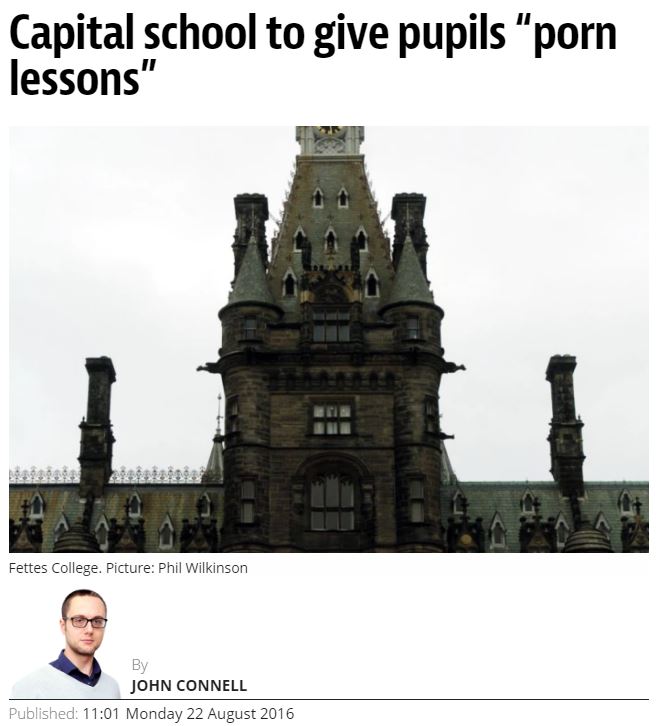 Pupils at one of the Capital's most exclusive private schools are set to receive "porn awareness" classes amid addiction fears.
Fettes College, which counts former prime minister Tony Blair among its alumni, has invited an internet expert to meet students later this year.
It comes after a growing body of research linked prolonged exposure to porn with a deterioration in mental health and impotence.
There have also been claims that addiction can harm studies, career prospects and relationships, with added warnings that it can escalate to viewing illegal images of child abuse.
Mary Sharpe, a lawyer and founder of The Reward Foundation, a charity that promotes healthy relationships, has already given porn awareness classes at George Heriot's and Dollar Academy in Stirling.
A source close to one of the schools said the sessions were "brutal and direct" about the effects of porn addiction, with another source describing them as "interesting and valuable".
And the method has proved so useful that Fettes – which charges fees of £32,200 a year – has decided to adopt it.
Sharpe said she had been invited to deliver the class later this year. "These schools realise the damaging effect hard-core pornography can have on their pupils, in terms of their mental health and their studies," added Sharpe.
Her foundation has compiled details of thousands of cases of young men from Britain and abroad who have spoken of the debilitating effect of their addiction.
Similar to drug-taking, Sharpe has warned that porn addicts' tolerance levels increase with continued exposure and that their habit can escalate, with users seeking increasingly graphic material to satisfy them.
"Young men can quickly escalate from soft-core porn to hard-core porn, fetish porn and evil child porn, to satisfy their need for that shock factor," she added.
Cameron Wyllie, the principal of George Heriot's, said: "It's really important that young people are exposed to the potential dangers of watching pornography through scientific studies that appear to show that excessive use of pornography is psychologically and mentally harmful.
"Evidence is growing that unprecedented exposure to pornography due to the internet, which is easily accessed via smartphones and tablets, is desensitising young men and leaving them unable to get aroused with a sexual partner."
In June, NHS Lothian called in Sharpe to meet with staff at its Chalmers Street sexual health clinic to raise awareness of porn-induced impotence.
The UK arm of the Huffington Post posted the following story on 22 August 2016.  we have highlighted a nice comment from a reader in the USA.

The Independent did a re-run, largely, of the Sunday Times story, available here.
The story was also picked up widely in the international media, as far away as Vietnam and Indonesia.
A charity founded by an advocate has published a paper on the effects of compulsive internet pornography use.
Mary Sharpe, a non-practising member of the Faculty of Advocates, left practice to establish the Reward Foundation, a charity that aims to further public understanding of the reward circuitry of the brain and how it interacts with the environment as well as to improve health by furthering public understanding of building resilience to stress.
In a new paper by US Navy doctors and the Reward Foundation, entitled "Is Internet Pornography Causing Sexual Dysfunctions? A Review with Clinical Reports", it is proposed the brain mechanisms by which internet porn use could create sexual difficulties even in healthy viewers. Those who start using during the key developmental periods of puberty and adolescence are especially vulnerable.
Several sheriffs and leading criminal lawyers have privately expressed their fears over the influence of pornography on the behaviour of young people to Scottish Legal News.
Ms Sharpe said she thinks the rise in sex crime may "in part be driven by the increase in compulsive use of internet pornography".
She added: "There's no doubt that historical child abuse and more people coming forward to report sexual assault play a part as does better detection by police, but beneath it, all porn addiction and the consequential desensitisation of the brain to violence and other addiction-related brain changes must be playing a part too.
"This has to be taken on board by the criminal justice authorities in conjunction with the educational and health authorities if we are to see any reduction in this area of crime."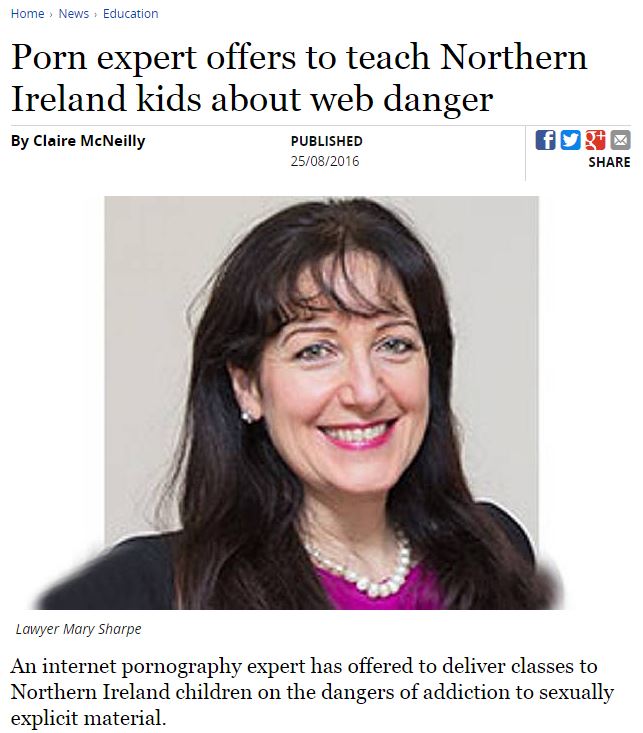 Lawyer Mary Sharpe hit the headlines recently after it emerged that Tony Blair's former school will provide "porn awareness" classes amid fears over the negative effects sexually explicit material can have on pupils.
Fettes College in Edinburgh, one of the UK's most exclusive public schools, has invited Ms Sharpe, founder of the Reward Foundation charity, to address students there at the beginning of next year.
And now plans have emerged to introduce such classes here in an attempt to wean pupils off pornography by warning them about the potential consequences of their addiction.
Speaking to the Belfast Telegraph, Darryl Mead, Ms Sharpe's husband and chair of the Reward Foundation, which promotes healthy relationships, told the Belfast Telegraph that Northern Ireland was on the agenda.
"Mary and I give joint presentations in schools and we're very interested in doing training sessions across the province," said Dr Mead.
"We haven't yet got any specific institutions in mind, but Northern Ireland is on our to-do list and we're very open to giving classes in primary, secondary and grammar schools.
"We're also happy to give separate sessions to boys and girls because they have different requirements when it comes to learning about pornography."
Ms Sharpe told Radio Ulster's Nolan Show yesterday that, although they currently deal primarily with 16 and 17-year-olds, they aimed to start educating children in their final year of primary school.
"Research shows that the average age kids start looking for naked pictures and the like is aged 10," she said.
"Today the internet gives them everything at the click of a mouse or swipe of a finger, so if we want to protect the kids' brains when they're at their most malleable, we've got to make them aware now."
The barrister said that while "just looking at porn and nudity wouldn't do any harm", there was a danger of it becoming a gateway to more explicit, potentially damaging material.
"The brain gets bored with something after it's seen it a few times and it demands novelty and it's very easy to escalate to hardcore porn and violent porn and kids get aroused by that," she said. "They're learning all the wrong stuff from the internet and it does them damage."
Depression and ADHD (attention deficit hyperactivity disorder) were just two of the mental health issues Ms Sharpe linked to pornography.
She also referred to a growing problem of erectile dysfunction among 20-year-old men "because they've been looking at porn in their teens".
"They stop being excited by their partners or by normal sexual arousal because their brains are used to hyper-arousing stimulus on the internet," she said.
"Instead of learning about how to chat up girls and hold hands and do all the normal gentle steps, they're being exposed to extreme material."
DUP MLA Nelson McCausland welcomed the move to make the classes available to local children, saying it was "right that young people should be educated about the dangers of pornography".
"There is great awareness today about the pernicious nature of such material and the way in which it affects the human brain," he said. "Anything that helps young people to have a more healthy lifestyle and be aware of such dangers is a good thing."